Introduction
In the world of digital marketing, content moderation outsourcing is significant for any genre of business specifically one that has an online presence. The quality of the content on your site and on any other digital platforms determines how your customers are thinking about your brand. It is the reason, every business must focus on the content they are publishing online so that they meet the quality standards and do not hurt anyone's sentiment.
Businesses must put emphasis on the user-generated content too, along with the content produced from their end as it can be negative or hurtful. Here comes the role of content moderation outsourcing (CMO) that will monitor the flow of content and take it down whenever necessary.
Benefits of Content Moderation Outsourcing
The goals of content moderation outsourcing for any business can be innumerable, however, companies need to organize and monitor user-generated content so that they strictly adhere to the regulations and guidelines of content submission. The content moderators filter every content posted on social media, online forums, comment sections, text messages, review sites, and many more.
Below is the list of reasons why content moderation outsourcing is essential.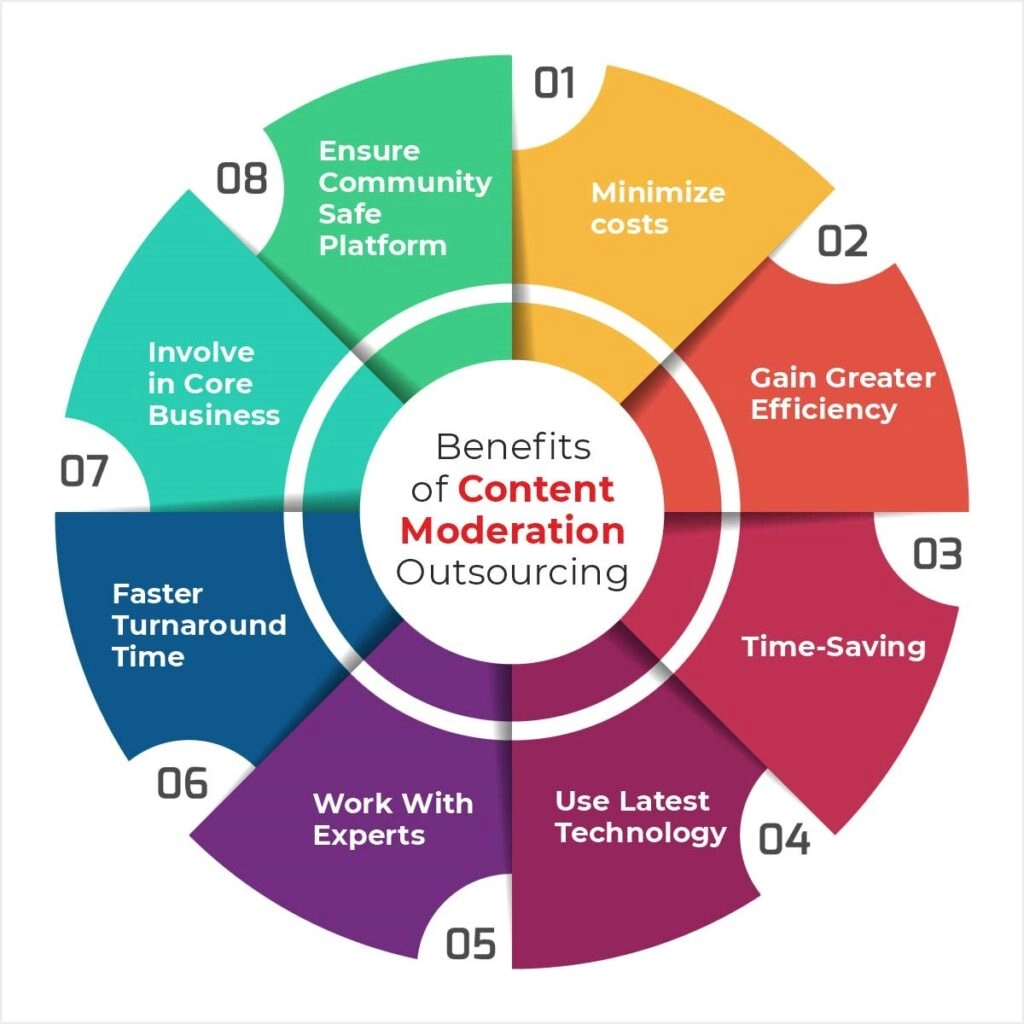 1. Minimize costs
When compared to maintaining an in-house team of content moderators that requires time, people, infrastructure, and huge capital, content moderation outsourcing is a much cheaper option. The cost of the whole process of content moderation depends on the level of engagement on your website and social media handles, whether you need 24*7 moderation or only during the general office hours. However, outsourcing is the cheapest as well as hassle-free option, as you can focus on core business activities while getting your job done in a lesser amount of time and money.
2. Gain Greater Efficiency
Content moderation outsourcing gifts you with greater efficiency of using the user-generated and business-generated content while engaging your customers with your brand offerings. Your brand can have exposure to new customers, SEO benefits, engaging existing customers, etc. Tons of side benefits along with you having the maximum flow of user-generated content. Incorporating the user-generated content in the marketing process can yield maximum benefits, however, that needs to be moderated and adhered to the community guidelines.
3. Time-Saving
CMO is a time-saving process as you can focus on your core work without paying heed to your online content. When you hire a professional CMO company, you are freeing up your significant time that can be utilized on a website's performance, customer service, and so on. The more time you get, the more you can focus on the areas of your business that need additional attention while devising effective strategies for the marketing efforts.
4. Use Latest Technology
Always choose the outsourcing agencies that are known for using state-of-the-art technology and the latest infrastructure while making your platforms free from spam. Working with an outsourcing partner also means that you get the leverage to access the latest software and technologies. Those companies will ensure that they make no mistakes while making your platform adhere to community guidelines. They have experts and technologies that will address online reputation and UGC concerns.
5. Work With Experts
The perks behind content moderation outsourcing are that you can expect skilled content moderators working on your project and that leads to fewer errors. Rely on the companies who have experience in this field and have a qualified and professional team of experts that will work on the content moderation and make sure it strictly adheres to the corresponding guidelines. All you have to do is define the required guidelines and regulations and then simply experience the perks of a spam-free platform.
6. Faster Turnaround Time
While you are thinking of choosing CMO for your user-generated content, make sure to choose the agency that is known for its faster turnaround time. The moderators need to be aware of all instances when a user posts content on social media platforms. It is very important to have a faster response time because once your followers notice spam content it will create a negative impact on the brand. The moderator should take action immediately whenever such content is posted.
7. Involve in Core Business
Outsourcing business functions has the most common benefit of you being able to get involved in your core business operations. Outsourcing leads to getting the work done by professionals and within the stipulated time. If you are thinking of content moderation outsourcing, then take some time in researching the whole process and the market leaders who are pro in this domain so that you can get the desired results.

8. Ensure Community Safe Platform
Your online presence needs to be secure and must adhere to the community guidelines. It needs to be safe so that people can trust you and can trust your brand and express their concerns. CMO is the ultimate need for every e-commerce company and especially social media platforms so that they are free from spam and hateful content. Wrong content can create a negative impact on the brand image and can reduce the number of followers.
The Bottom Line
The online world has infinite opportunities. Any business will benefit from positive word of mouth from their followers and customers if they were successful in offering a seamless customer experience. Content moderation nowadays plays a vital role in all brands' online presence, since any person can freely comment bad and foul words about the company or resort to frauds and scams which are just unacceptable.
Finding the right agency, while addressing the digital reputation and the user safety concerns is crucial but challenging. Thus, content moderation outsourcing can be a real savior when your customer engagement is huge and you don't have enough resources and avenues to handle online reputation management.
Source: https://www.truppglobal.com/blog/top-8-benefits-of-content-moderation-outsourcing