You're the one who wears all the hats. You've put in efforts to grow your company. However, the tax deadlines, payroll, receipts, invoices, and spreadsheets are confusing you at this point in your business. Outsourcing accountant work is ideal for relieving yourself of this time-consuming task. Many companies outsource their accounting functions to specialised professionals to optimise their cash flow, reduce the total cycle time of their procedures, and identify the most and least profitable product lines for future expansion plans. So, is it worth it for your company to hire outsourced accounting services? Here's everything you need to know about outsourced accounting and how it can help your business.
What does outsourced accounting mean?
Outsource accounting is a simple idea to understand. You hire a third-party organisation to manage your business's affairs instead of having an accounting team. Businesses can outsource accounting services that want to benefit from tasks including payroll, accounts receivable, and financial reporting. It's important to understand that outsourced accounting services aren't always associated with contracting a foreign firm. It simply implies that you pay an independent contractor or firm of accountants to manage your compliance and accounts instead of managing yourself.
Benefits to Outsource Accounting Services
While there are many advantages to hiring 
outsourced accounting services
 for your small business, the following are the most important ones that apply to all organisations, regardless of size or industry:
1. Cost-effective
Outsourced bookkeeping
 is most appealing since it saves organisations money. It does so in various ways, including minimising the cost of hiring an in-house team and saving you time to focus on the core business. When paying employees' salaries on an hourly or monthly wage, you must consider recruiting, onboarding, employee benefits, and insurance. These issues can quickly drive up operating costs, making an in-house accounting team more trouble than it's worth. All these issues become a history if you outsource your accounting team. You assign the necessary work to trained professionals, allowing you to concentrate on growing your business sustainably. You can also hire more experienced personnel for your core business tasks using outsourced accounting. Rather than allocating funds to support workers, you can invest in sales associates who can help you boost revenue and expand your reach. Outsourced accounting saves you money, allowing you to spend it more wisely in other areas.
2. Scalability
The value of an outsourced accounting firm is primarily determined by its scalability. Keep the following points in mind when looking for an outsourced accounting firm:
What level of automation does the outsourced accounting business have? The more automation they put in place, the more probable it is that they will be able to scale your company successfully.
Experienced outsourced accounting services know when to scale up and when to scale down. Only reputable companies with substantial experience will have access to this skill set.
Organisations with well-defined scaling procedures can provide a wide range of services. Do they have the infrastructure to implement process-driven solutions?
You shouldn't feel obligated to sign a binding contract while using outsourced accounting services. It is all about allowing you to be more independent. It also has a sliding pay scale that fits your business model.
3. Saves time
Outsourced accounting experts can handle the management of financial operations currently carried out internally. Their knowledge takes the uncertainty out of responsibilities like reconciliation, budgeting, payroll processing, and debt management, allowing greater peace of mind. There aren't enough hours in the day for a busy small business owner. Outsourcing these responsibilities to a financial expert familiar with accounting systems can allow you to devote more time to business development and other significant tasks.
4. Business continuity
Disruption in accounting functions can harm the organisation as accounting is a time-sensitive fundamental operation. A firm can face delayed payments, loss of essential records, and penalties when the accounting is affected due to factors like:
Poor infrastructure
System downtime
Human capital shortages
Companies that have such interruptions in business continuity risk losing clients to a competitor. On the other hand, Outsourced accounting allows you to work with companies usually equipped with cloud-based systems and automation capabilities and can offer you consistent services. Furthermore, you can ask the provider to supply time-bound services by adding a business continuity plan in the service agreement.
5. Expert accountants and bookkeepers
You may be able to engage a professional with a higher standard of expertise at a lower cost by outsourcing. To be competitive in the market, outsourced service providers must continually improve their abilities and certifications. Consider working in a workplace with 50 people. They'll have the ability to discuss new accounting trends quickly, solutions, and technologies. Furthermore, top accounting firms have greater access to training and courses, and they attend them regularly. Furthermore, outsourcing to an accounting firm allows you to work with a team of financial experts. You may rest assured that your accounting is in the hands of a reliable and knowledgeable business if you choose an outsourcing provider wisely.
6. Enhanced data protection
Most finance and accounting procedures have gone digital, resulting in vast confidential data. It is a company's responsibility to protect this data, which could be internal or client-related. On the other hand, small firms and startups often make preliminary steps to secure this data, leaving them vulnerable to cyber-attacks and data theft. Such security mistakes might harm your brand's reputation and even lead to a lawsuit. The lack of security features in accounting systems implemented by a corporation is the primary cause of these data security breaches. Professional accounting firms typically use secure cloud servers that have advanced capabilities such as:
Encrypted transactions
Data storage on cloud-based, secure servers
Offers enhanced data recovery and disaster management features
With such appealing benefits, it's no surprise that businesses jump on outsourcing accountants without conducting the necessary due research. As a result, the majority of them cannot maximise the benefits of this arrangement.
7. Reduced errors
It is not your responsibility to be an expert in accounting services as a business owner. However, problems may arise if you hire an in-house bookkeeper. How can you analyse candidates' qualifications and screen them? What are the best ways to integrate thorough accounting procedures into your infrastructure? When you use outsourced accounting services, you receive access to a team that relies solely on their accounting services for revenue. Because they can't afford to hire applicants without the requisite credentials, your financial services will be administered by the most skilled accounting specialists. It reduces the risks of an inexperienced accountant because you have a skilled staff of accountants focused solely on performing your financial procedures smoothly. These experts know how to integrate digital bookkeeping software into your infrastructure to eliminate the risk of human error.
Things to look for before Outsourcing accounting function
Once you've decided to outsource, the next step is to find an outsourcing business that fits your aims and objectives but, most importantly, can meet your demands and criteria. We think that quality and efficiency should go first when outsourcing bookkeeping and accounting services. However, there are a few more important aspects to consider.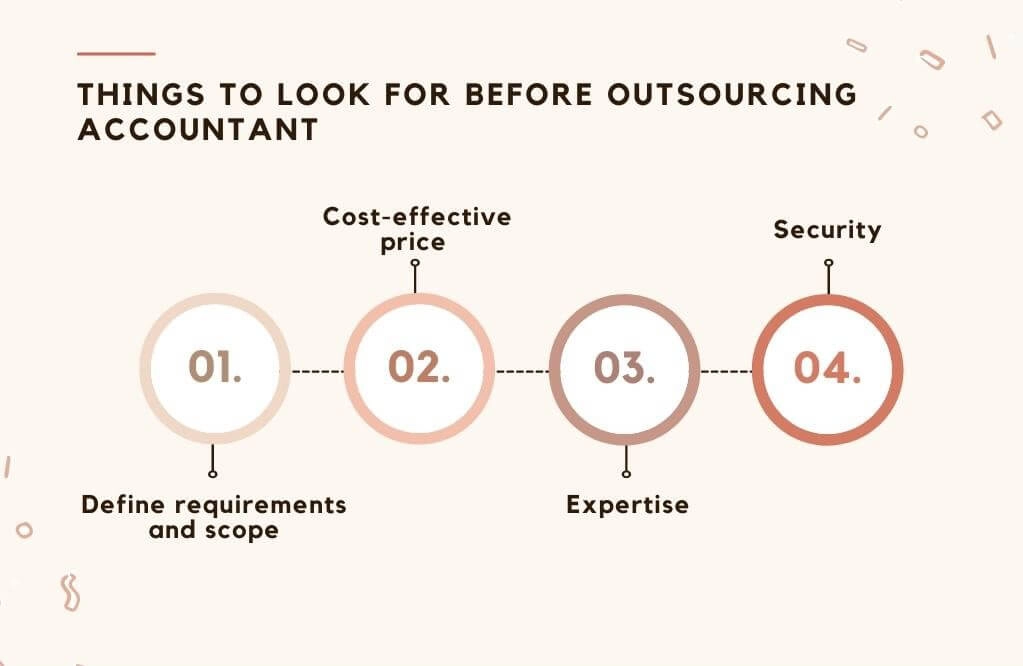 1. Define requirements and scope
You should be completely clear about your business needs and the scope of the services before choosing outsourcing services to manage your accounts. First, examine your current accounting system and list its limitations. Then, agree scope of of work with outsourcing accounting services provider, such as a better cash management system or just keeping track of profits or filing tax returns only. Most outsourcing projects fail due to a lack of clarity in requirements and a poor scope specification.
2. Cost-effective price
Every 
accounting and bookkeeping firm
 has its payment structure — some charge by the hour, while others bill every month. As a result, you can choose the payment period that best meets your demands and budget but don't make your selection just based on cost-effectiveness.
3. Expertise
Check if the organisation you're considering hiring has the necessary expertise, professionalism, and qualifications. Remember that you may always ask for referrals from prior or current clients, examine their market reputation, economic stability, and, most importantly, their ability to produce high-quality, consistent outcomes.
4. Security
Many business owners are reluctant to use outsourced accounting services because they are concerned about the security of their accounting data. As with any in-house team, you must exercise extreme caution regarding data protection. To avoid security failures, examine references and ensure the outsourcing service providers stick to all basic security procedures. Think about the encryption method providers employ on their websites and the security steps to monitor location and data.
Final thoughts
Outsourced accounting's advantages essentially boil down to the freedom it provides. While the impacts of business disruption are here to stay, outsourcing has embraced the shift and is quickly becoming a vital growth strategy for many businesses. They can save a lot of time and resources while also gaining crucial financial information to help the company grow. You have access to a full-service accounting team dedicated to the safety and success of your business. These professionals will easily incorporate the essential infrastructure into your organisation, giving you the scalability and automation that your company requires.
Source: What is Outsourced Accounting and how will it benefit you? (123financials.com)